Dr. S. N. Subbarao Foundationis reaching out to the marginalised in many ways.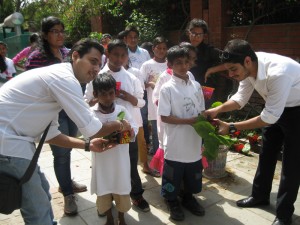 The Foundation is working in more than 35 projects across Delhi, Haryana, Uttar Pradesh and Uttarakhand. Our projects can divided into seven broad categories, which are –
PROGRAMMES FOR UNDERPRIVELEGED CHILDREN
The main focus of the Foundation is on free coaching of dropouts in education so that they may again join the mainstream of education, the school. The second focus is on those children, who get admission in schools, but their performance in classes is very poor and there is possibility of their being dropped out in the absence of support. Foundation is preparing these slum dwelling children by giving additional input of education so that they may come at par with others studying in classes and care is taken so that they should not develop any inferiority complex.
SLUM WOMEN TAILORING PROGRAMME
Dr. S. N. Subbarao Foundation has steadily been building our capacity to create a truly great opportunity for those from the downtrodden families. People especially women who were once deprived of everything be it money, status or career are now encouraged to groom up their confidence and to become self independent here at Sulabh Literacy Mission & fulfill their dream.
Members and staff of the foundation no stone unturned by providing these women opportunity to learn & train themselves in various fields such as cutting, tailoring & basic education so that they can compete with the competitive world and earn their livelihood by exploring their skill and talent. These women majority of whom belong to the slum area work as domestic help in houses and after mid-day they come to Foundation to learn & develop skills so that in future they would not serve as domestic help and become self employed.
Young girls mostly who were school drop-outs were counselled by foundation literacy staff to join the 'learn and earn' training programme and now those who have undertook training in this programme are able to earn money under the self-employed scheme.